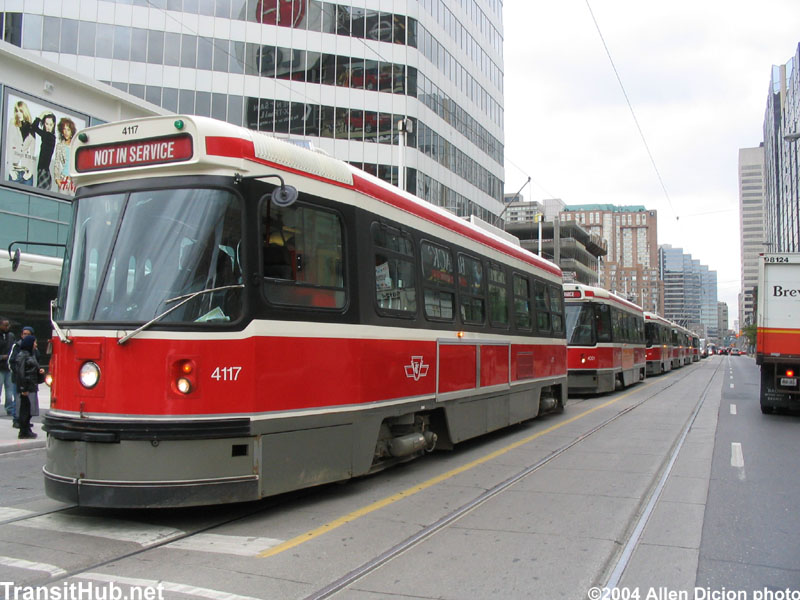 So it's been over a week since my last post. I had been relatively calm in that period, not finding much to rant about or at least nothing worth writing down while bored at work.
My lovely friend Charlene bemoaned the lack of blogging activity (bless her heart) and requested a fresh tirade. So here it is.
(Anyone else miss me? Anyone? Bueller? Didn't think so.)
So I'm on my way to my
TESSC
multi-sport semi-final playoff game last night with my buddy Pat. I live at Jarvis and Carlton and the game's at Malvern Collegiate which is at Main and Gerrard. The Carlton streetcar practically takes me from door to door.
Theoretically.
See, the streetcar has one major drawback, as discussed in a
previous post
: IT'S A STREETCAR!
We're running pretty much on schedule and reach Greenwood. At this point our trip goes off the rails (metaphorically speaking of course). The streetcar that was 10 minutes or so ahead of us has come to a stop on the tracks and is surrounded by police cars. Seems some dude was causing enough trouble on board to cause the operator to call the police and they are now leading him into one of many squad cars. Meanwhile, we're not going anywhere. Neither is the streetcar that is now behind ours.
What we have here, folks, is a TTC-generated traffic jam.
It becomes clear that, despite the $8.50 day pass I had bought earlier in the day, the TTC is not going to get me to my game on time. Pat and I get off along with everyone else and grab a cab.
Oh, but the adventure does not end there.
See, the cabbie heads along Gerrard/Eastwood (it splits) until he reaches Woodbine and heads north. When he rejoins Gerrard St. East, however, he's unable to make the desired right turn. Why?
BECAUSE THEY'RE REPLACING THE STREETCAR TRACKS!!! The road is closed. And it's gonna be closed for a number of days if not weeks while the work is done. So we continue north to Danforth (which I would have reached quicker had I taken the subway initially) and take a roundabout route to the gym.
$13 later, we're at our destination.
To cap off the night, we end up losing the playoff game.
But that's ok, since we play for fun and it's a good time.
Taking the streetcar? Not so much.