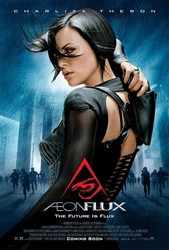 The verdict is in:
Aeon Flux
, the new scifi flick with Charlize Theoron and a decent cast got mercilessly panned by critics. It scored a 15% rating on rottentomatoes.com, which is pretty darn rotten, but not unheard of this year, given the bumper crop of crapola appearing on screen these days.
...And it finished in the #2 spot for revenues with $13M.
Only four movies out of the top 12 in box office revenues received "fresh" ratings on rottentmatoes:
Harry Potter
,
Walk the Line
,
Pride and Prejudice
and
Zathura
.
Amazingly, Cineplex Odeon still feels $15 for a movie is a fair price...